Touring Projects
Mike Marshall and Caterina Lichtenberg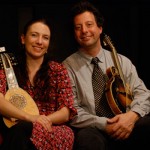 Caterina Lichtenberg and Mike Marshall, two of the greatest living mandolinists in the world, have created a beautiful new chamber music duo.
Their recent release on Adventure Music captures their lively spirit within several musical styles. From Bach to Brazilian choro, and from Mike's own compositions to Venezuelan music.
Caterina is the Professor of Mandolin at the Music Conservatory in Cologne, Germany. She and has been touring the world for eighteen years and has over ten CDs to her credit.
Together, these two virtuosos take you on a musical journey of the mandolin and mandocello – around the world and through the centuries – to create a provocative and engaging evening of music.
In just two years as a duo, Caterina and Mike have already performed concerts in San Francisco, New York, Lunel (France), Genova (Italy), London and Berlin.
Darol Anger and Mike Marshall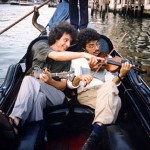 When speaking about Darol Anger and Mike Marshall's live performances, people often use phrases like "synergy," "breathtaking" or "space travelers."
Darol and Mike have created their own way of speaking – through their instruments. A connection and a shared repertoire that goes very deep; developed over 35 years of music-making in a wide variety of music styles. It is very rare what these two have the ability to do in concert. A way of communicating through their instruments that is nothing short of breathtaking.
Edgar Meyer and Mike Marshall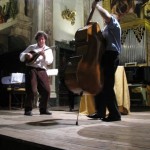 Edgar Meyer and Mike Marshall have been playing music together for twenty years. Over these past two decades, they have developed a fully realized concept of the mandolin/bass duo. Edgar and Mike present a repertoire that spans the globe; from Bach duets to Brazilian choros, and from funky original pieces their own twisted fiddle tunes.
Chris Thile and Mike Marshall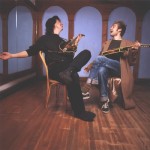 Chris Thile (Nickel Creek/ Punch Brothers) and Mike Marshall have recorded two CDs together for the Sugar Hill label. They are two of the most important mandolin players in America, representing the continuum of the music being passed from generation to generation.
While they both began their music-making in traditional American music forms, their musical horizons seem to have no limits. It may seem like just two mandolins but when they arrive on a stage, be ready for something extreme to happen.
Psychograss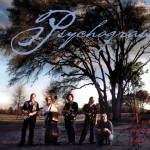 Psychograss is a who's who of bluegrass super-pickers. Darol Anger (violin), Tony Trischka (banjo), David Grier (guitar), Todd Phillips (bass) and Mike Marshall (mandolin).
Just looking at that list of names will send shivers down any bluegrass picker's mandolin strap.
It's an elite group, with a collective catalogue of CDs and former ensemble, that adds up to nothing short of one of the cornerstones of 20th Century American stringband music.
Choro Famoso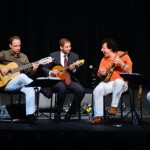 What is Choro Music?
Choro is a style of Brazilian music that dates back to the 1870s, when European dance forms combined with the African rhythms of Brazil. Like much of the music of the Americas, this coming together of rich harmonic and melodic forms from Europe and the intoxicating rhythms of Africa are what created this new style and also gave birth to so many of the other Brazilian musical forms – like Samba and Bossa Nova.
Intricate melodies and virtuosic improvisations are the cornerstones of this style where mandolin, clarinet, 7-string guitar and percussion are the typical ensemble.
After a trip to Brazil in 1995, Mike fell in love with Brazilian Choro music. He returned with a suitcase full of sheet music and CDs, and immediately went to work to form this group of like-minded choro-heads.
Big Trio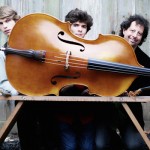 Mike has surrounded himself with the next generation of instrumental virtuosos who represent the future of American string-band music.
Paul Kowert studied under famed crossover bassist Edgar Meyer at the Curtis Institute of Music, and has been touring with Chris Thile's Punch Brothers for the past two years. He is a master at both European classical and traditional American forms, a wizard with the bow as a soloist, and as a foundational bass player in any style he chooses.
When he was twelve, Paul was the principal bassist in Disney's Young Musicians Symphony Orchestra at Avery Fisher Hall in New York City. At fourteen, he soloed with the Madison Symphony Orchestra as winner of the Fall Concerto Competition. As a sophomore, Paul joined the UW Chamber Orchestra, and he has been the youngest member of the Madison Symphony Orchestra for the last two years.
At just 18 years of age (!), Alex Hargreaves has already established himself as a true master of both traditional fiddle styles and swing, bebop and post-bebop improvisation. His creativity seems to have no bounds while his sense of taste and development far surpasses his years.
Alex Hargreaves just received a full scholarship to Berklee College of music's Global Jazz Institute. He was also the youngest fiddler ever to win the Weiser Idaho National Fiddle Championship, and in 2007 he was awarded the Belle Foundation Cultural Development grant for his musical achievements. Alex was also chosen for an Alternative Styles award from the American Strings Teachers Association.
Together this Trio has created it's own unique form of New Acoustic American music that will surely point the way for generations to come.
Väsen with Darol Anger and Mike Marshall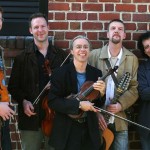 In 2005, Darol Anger and Mike Marshall met this Swedish super-group for the first time in Bloomington, Indiana. It was a musical love affair from the first notes they played together.
The five of them had been fans of each other's music for many years, but from the first time they met they felt a kinship.
What Darol and Mike have been doing with traditional American fiddle music for the past thirty years, Väsen had been doing with their own traditional dance forms. Turning this music inside-out, combing traditional melodies with global rhythms, and an expanded sense of harmony and counterpart.
Together, these five musicians create some of the most evocative and engaging music heard anywhere today.